Dynamode Bluetooth Stereo Headphones with Bluetooth V2.0 EDR Adapter - BT-SHS-U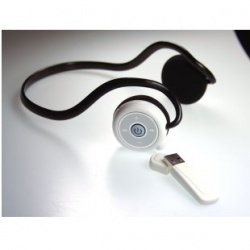 € 39.99
Welcome to the next generation of Wireless Stereo Sound!
The new BT-SHS-U is a feature rich Stereo experience for the Personal Computers.
Using Bluetooth Wireless technology for a totally free cable experience and with full remote control these stylish headphones are your only choice!
Up to 15 Metre Wireless Bluetooth Range
Full Remote control for PLAY, PAUSE, FORWARD, REVERSE and VOLUME
Up to 6.5 Hours usage from a single charge
Standard USB Bluetooth Dongle PC with USB Port etc
SKype(r) and VoIP compatible
ClearSound(tm) Audio Technology
No software needed!
Complete with Mains Charger
Features
Ultra Light weight - Only 50g
Auto music/phone switching
High Quality Stereo Sound
Echo Elimination and Noise Suppression
Voip, Skype, MSN, Yahoo Messenger, Supported
Media-Tech LCD Cleaning Foam - 100ml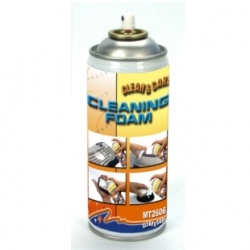 € 9.99
Foam for cleaning crystal displays in laptops, palmtops and screens. Foam doesn't draw surface and leave trails. Antistatic and biodegradable.
Media-Tech Air Duster - 400ml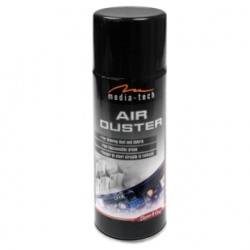 € 11.99
AIR DUSTER 400 ml: for blowing dust and debris from inaccessible areas of electronic equipment (computer keyboards, printers, CD-ROM/disk drives, copiers, fax machines, etc.). Danger of short circuits therefore minimized. Variable spray intensity. Environment-friendly. 100% ozone friendly gas. Contains no CFC or HCFC. Pressurized container. Protect from sunlight and do not expose to temperatures exceeding 50C. Do not pierce or bum even after use. Keep out of reach of children. Do not spray onto a naked flame or incandescent surface. Keep away from naked flames, and do not smoke. Do not breathe in Aerosol fumes. Only use in well aired environment. Contains propane and butane. Flamable!
Media-Tech LCD Wet Tissues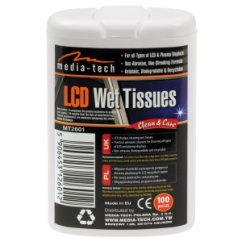 € 14.99
LCD WET TISSUES 100 pcs: practical antistatic cleaners for cleaning without leaving streaks all LCD sceens: notebook, PDA, calculators and more. Biodegradable. Caution! Flammable
Media-Tech Notebook Cleaning Kit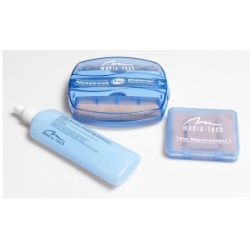 € 8.99
Power set of brush, fiber cloth and LCD cleaning liquid
Compact "easy to travel" packet
Suitable to clean mobile computer in every occasion
Media-Tech Disc Rescue Kit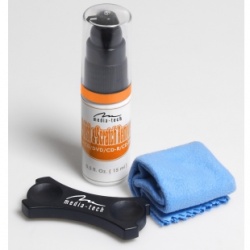 € 7.99
Set of tools to repair damaged optical discs
Helps to remove scratches from disc bottom side and make it readable
Works with all optical disc types.
Contain micro sandpaper, polishing knobs, polishing cream and cleaning cloth