Samsung NC10 WHITE ATOM N270 1GB 160GB XP HOME 10.2"W (free Delivery)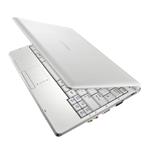 € 449.99
The new netbook from Samsung
Developed with the needs of the "kinetic" elite in mind, the NC10 is expertly crafted so you can achieve even more on the move - and still look good! The superb look and feel of its ultra-compact and elegant chassis comes with the reassurance of a smooth and integrated manufacturing process. It is also accentuated with a choice of stylish colors - white, classic Samsung piano black and a unique metallic blue color.
Even though it is one of the world's lightest 10.2" netbooks, weighing just 1.33kg with a 6 cell battery, the NC10 incorporates a stunning 10.2" WSVGA (1024 x 600) SuperBright© Non-Gloss LED screen and normal-size, ergonomic notebook PC style keyboard that makes it even easier to type in comparison to other products of its kind.
Awards and recognition
PC Pro recommended + PC Pro A list - 5 out of 6 stars - "the NC10 sets the golden standard to which all netbooks must now aspire."
T3 Magazine - 5 out of 5 stars - "Bring all these elements together and what you have is our favourite new netbook. Samsung may not have delivered anything new in terms of design or specification but what it's done is take the best of what is out there, distil it through some netbook wonder-tank and boil it down to the very essence of what a netbook should be"
Highlights of the Samsung NC10
Intel Atom N270 processor
1GB Memory
160GB Hard drive
10.2" widescreen display
Microsoft Windows XP Home
Ergonomic keyboard
Lightweight and portable
McAfee Antivirus Trial included